Vaccination Campaign
Human Papilloma Virus (HPV) causes virtually all cases of cervical cancer.  Vaccinating against this virus is an integral part of cervical cancer prevention.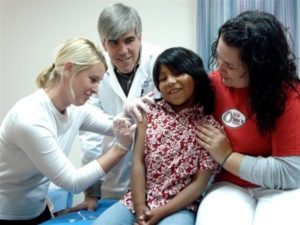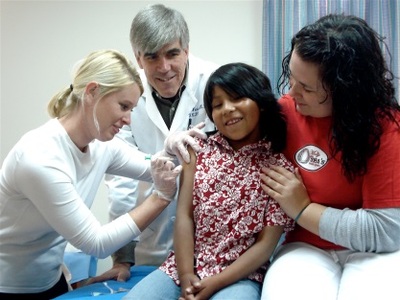 CerviCusco launched the first HPV vaccination program in the Cusco region in 2008, administering the quadrivalent HPV vaccine, donated by the manufacturer Merck & Co. Inc.  As part of this effort, 
CerviCusco educated approximately 90 local healthcare providers about HPV and the HPV vaccine. In 2016 Merck made a very significant donation of its Gardasil HPV vaccine (estimated value more than $8 million) which is expected to allow vaccination of 30,000 individuals.
The vaccine is administered free of charge at CerviCusco's clinic in Larapa, Cusco, and through mobile clinics to reach young people who would otherwise not have access.
Papanicolaou (Pap) screening
The Papanicolaou (Pap) test is an important part of cervical cancer prevention.  It's a simple procedure to detect the presence of pre-cancerous or cancerous cells in the cervix.  Abnormal test results trigger further examination and potential treatment.  CerviCusco uses advanced liquid-based technology, not available elsewhere in Cusco, which ensures more accurate results than the conventional (old) Pap test. CerviCusco has screened more than 100,000 women since 2008.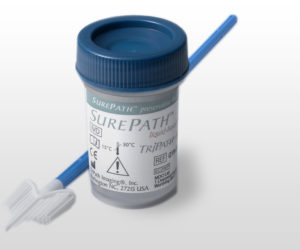 CerviCusco was able to introduce the SurePath Liquid Based Cervical Cytology Test to Peru in 2011 thanks to a US$1 million donation from BD - a company with significant expertise in women's health and cancer. Since the adoption of liquid-based Pap tests at CerviCusco, the rate of unsatisfactory specimens has been reduced significantly and a greater rate of cancer precursor lesions has been identified. As a result, fewer inconvenient repeat Pap tests have been done and more women have been properly diagnosed with cervical cytology abnormalities. Because of the improved quality of the liquid-based Pap tests, our CerviCusco Telepathology Program has been able to render expert consultations from afar, bringing valuable quality control expertise from the US into the laboratory in Cusco.